For the Health of Your Eyes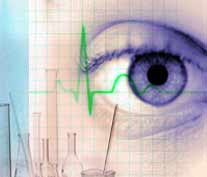 Supplements for Healthy Eyes
In a continuing effort to provide comprehensive eyecare solutions for our patients, Great River Eye Clinic, is proud to announce that we now provide scientifically validated nutritional supplements to protect visual health.
Clinical research shows that in addition to protecting the health of our eyes, certain nutrients also play a key role in several eye-related conditions, including age-related macular degeneration (AMD) and dry eye syndrome.
The results from the 10 year Age-Related Eye Disease Study (AREDS) show that those with at least a moderate form of AMD can slow the progression of the disease by supplementing with antioxidants and zinc.
Emerging research also suggests that lutein and zeaxanthin from green leafy vegetables are important for the macula--the area where our sharpest vision take place. These antioxidants are concentrated in the macula and help protect it from the damaging effects of UV light. Since the body can't make its own supply of lutein, your macula relies solely on the lutein from the foods you eat. However, the typical diet only provides 1-2 mg daily, a fraction of the amount shown to be helpful in protecting the health of our eyes. Therefore, a supplement containing adequate amounts of lutein is recommended.
We believe that a comprehensive approach to eye health is the most effective way to preserve your vision. A significant component of this approach is proper nutrition, which should include the use of a quality nutritional supplement.
The supplements recommended by our practice are based on the latest scientific research, made from premium quality ingredients and manufactured in strict accordance with the highest quality standards. They are free of preservatives and artificial coloring and encapsulated for maximum bioavailability.

At Great River Eye Clinic we offer the following formulations:
OcularProtect
MacularProtect Complete-S
OcularProtect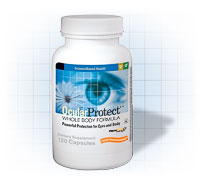 Whole Body Multinutrient
(picture and PDF link)
Suggested Use: Four capsules daily, with meals

OcularProtect is a comprehensive, premium quality multinutrient that offers maximum protection for eye and body health. OcularProtect meets the American Medical Association's recommendation that all adults take at least one multivitamin daily and provides a balanced combination of over 40 key nutrients. Featuring a combination of important antioxidants, such as vitamins C and E, 7 mg of FloraGLO lutein, and lycopene; an array of beneficial flavonoids; and a team of potent cell-protecting nutrients, such as green tea extract, broccoli sprout extract and a special mixed berry blend, OcularProtect provides the nutrients needed to help your body perform at its best.
MacularProtect Complete-S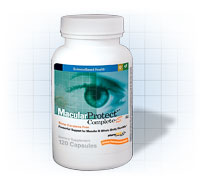 Powerful protection for macular and full body health

All-in-one AREDS-based formula with lutein-rich multinutrient; beta-carotene free

Appropriate for smokers or non-smokers
Suggested Use: Four capsules daily, with meals.

For those concerned about their macular health, MacularProtect Complete-S is a convenient, all-in-one formulation that provides powerful protection for eyesight and full body health. MacularProtect Complete delivers levels of antioxidants and zinc found to preserve eyesight in the National Eye Institute's landmark AREDS clinical trial.
MacularProtect Complete also includes a comprehensive multinutrient for full body health, in accordance with the American Medical Association's recommendation. It features a diverse array of bioflavonoids and antioxidants, including 10 mg of FloraGLO lutein, and essential vitamins and minerals. MacularProtect Complete is free of beta-carotene and appropriate for smokers or non-smokers.




ScienceBased Health formulations can be purchased directly at Great River Eye Clinic 800-952-3766.