Meet Dr. Stacy Sjoberg
Stacy Sjoberg, MD PhD
Ophthalmologist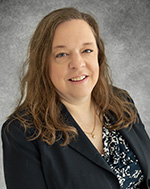 Education: Cornea & External Disease Fellowship, University of Iowa; Ophthalmic Residency, Wilmer Eye Institute at Johns Hopkins Hospital; Medical Degree and PhD in cell biology, Neurobiology & Anatomy, Medical College of Wisconsin; BS degree in
Microbiology. Board Certified in Ophthalmology.
Specialty areas of Practice: LASIK, Cornea and external eye disease and provides comprehensive ophthalmic services including
cornea transplant surgery, intraocular lens implants, cataract and glaucoma management and surgery.
Hobbies: Activities with family and friends, travel, reading, fishing, hiking and kayaking.


Schedule an appointment with Dr. Sjoberg today: 800-952-3766