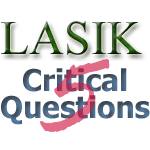 Five Critical Questions to Ask When Considering the iLASIK Procedure
1. What level of experience should a qualified iLASIK surgeon have?
Experienced refractive surgeons believe the defining experience threshold is one thousand iLASIK procedures.

2. What technology is used for iLASIK surgery?
New innovations in laser eye surgery are made constantly. Great River Eye Clinic houses the Intralase Femtosecond and Star S4 IR Excimer Lasers in our laser suite. Together these make this an all laser LASIK procedure.
We believe it critically important to have the finest, up-to-date, proven technology for our patients.
iLASIK has come a long way over the years. Fortunately, our laser manufactuer provides routine maintenance and prompt installation of updated software to give our patients the latest technology.


3. Should I ask for the clinic's iLASIK results when researching a prospective eye clinic for iLASIK surgery?
Most certainly! Ask how many iLASIK procedures the surgeon(s) has performed and what the outcomes have been. Dr. Stacy Sjoberg, at Great River Eye Clinic, has performed thousands of refractive surgeries on patients with a wide range of prescriptions.
Most of these patients now see well enough to legally drive without prescription eyewear. Our patients are so satisfied with their results they send their friends and family members to us.


4. Why do iLASIK surgery prices vary among practices?
There are multiple pricing strategies used nation-wide by iLASIK clinics. Some iLASIK providers use tiered pricing . In tiered pricing the cost of iLASIK surgery is advertised for hundreds of dollars less than the national average.
This price varies based on the level of correction needed. For example, slight nearsightedness requires little correction and is quoted at a nominal price. This price is then advertised as "the going rate" for iLASIK at that clinic.
However, most patients do not fit this minimal criteria and pay more based on a higher degree of correction. In many cases, only 2% of the population will qualify for the advertised price. Most will end up paying much more than originally advertised.
Great River Eye Clinic does not believe tiered pricing is fair to the patient.

Be careful and know exactly what is included in the clinic's fees. At Great River Eye Clinic, we have one low price per eye which includes 9 months of follow up care. The only additional charge is the evaluation, which is often covered by insurance.




5. What type of a surgical approach achieves the best iLASIK results? Experience and Team Work!
An experienced surgeon who employs a team approach when providing iLASIK surgery get the best results. The careful selection of the iLASIK team members means consistent results, not possible in other settings.
People who work together on a daily basis gain trust and confidence in one another. The technicians at Great River Eye Clinic are permanently employed by our clinic and work here every day. They do not travel from clinic to clinic working with a different staff once or twice a day.
Like any team, time and experience leads to a "gelling effect" as team members anticipate needs and evolve to work as a single entity.