Meet Dr. David Malchow

David Malchow, O.D.
Optometrist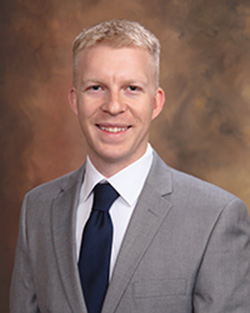 Education: Dr. Malchow earned his Bachelor of Science Degree in Biomedical Science at St. Cloud State University graduating Magna Cum Laude and received his Doctor of Optometry Degree from Pacific University College of Optometry in Portland, Oregon again graduating Magna Cum Laude.
Dr. Malchow completed his residency at the Captain James A. Lovell Federal Health Care Center in North Chicago, Illinois and is a Veteran of the U.S. Navy who has been on active duty for the past four years.
Specialty areas of practice: comprehensive eye exams, contact lens care including specialty hybrid lens fitting for the irregular cornea, retinal, infectious and inflammatory eye disorders, treatment and management of eye diseases such as diabetes and glaucoma and co-management of cataracts and LASIK.
Dr. Malchow will provide optometric services at Great River Eye Clinic's Crosby and Baxter locations.

Hobbies: Golf, fishing and painting.
Schedule an appointment with Dr. Malchow today: 800-952-3766